The tourism and travel sector has been devastated as the Covid-19 pandemic spread over the world: airlines keep their fleet on the ground while hoping for state support; hotels temporarily convert hotel rooms to workspaces and makeshift hospital rooms due to lack of guests; and museums now offer virtual tours. Meanwhile, Airbnb rentals have plummeted; data by short-term rental market analyst Airdna suggests that in some cities Airbnb bookings were down by 95%. State-sanctioned immobility directly hits business models of platforms like Uber and Airbnb, which normally thrive on facilitating travelling.
In this blog post I explore Airbnb's response to the crisis so far, which seems to primarily consist of crisis management and efforts to capture any value that remains and may come out of the crisis.
Crisis management
While the drop in bookings is Airbnb's most direct problem at the moment, a series of issues in relation to hosts, guests, and the company's own financial situation quickly emerged from it.
As Airbnb "want[s] to build the world's most trusted community," its guests and hosts may reasonably expect that it acts as a trustworthy "partner." But when it started allowing guests to cancel outstanding bookings, Airbnb quickly found itself in a crisis within the Covid-19 crisis. The right to cancel bookings was initially rolled out in northern Italy and other areas that received a negative travel advice, where it applied to bookings scheduled within a limited period, but it was soon extended to all other markets and was applied to bookings pertaining to a larger timeframe. All types of cancellation policies were annulled, including those that deny guests the right to refunds. In the past, Airbnb had always taken the position that, as a platform, it is not a formal party in the agreement between guests and hosts, giving hosts the option to select their own type of cancellation policy. Now Airbnb suddenly did intervene, with the severe consequence that hosts immediately lost their livelihood. Hosts felt betrayed, prompting some to start a petition in preparation of a class action lawsuit.
Airbnb could not ignore the outrage. On March 30 Brian Chesky, one of the company's founders, apologized to its 'partners' during a livestream and stressed that Airbnb had made a mistake by not involving hosts in its decision-making process. Chesky announced some measures to help out cash strapped hosts: a $250 million fund, covering up to 25% of what hosts would have received under their cancellation policy of choice, and a $17 million 'Superhost fund' for hosts struggling to pay their rent or mortgage. Although the exact access criteria for the latter haven't been published, hosts have to have been a Superhost for at least a year, only host in their own home, and prove they rely "on Airbnb as a vital source of income."
Meanwhile, hosts are desperately looking for other options to rent out their properties. Especially hosts who are dependent on Airbnb-income to pay their rent or mortgage are at great risk. While Airbnb has in the past asserted that it offers an empowering tool for the middle class, the current crisis shows how volatile this 'solution' is in practice. One popular option to retain at least some income is to rent out apartments on the regular housing market, with lasting for a few months. These spaces now appear, for example, on Dutch private rental housing portal Pararius, where they are in some cases explicitly advertised as 'listed on Airbnb before.' While references to Airbnb have been removed after media attention, the supply of furnished apartments remains higher than usual. Hosts are apparently still hoping for a quick recovery, as they are only offering leases that run until June or July.
With its IPO scheduled later this year, it has never been as important for the company to maintain public trust. So in a response to the news that hosts were leaving the platform Airbnb tried to calm things down by emphasizing that the contrary was the case: there were supposedly more listings available currently than during the same period last year. The moment that Airbnb will enter the public market has been highly anticipated, since Airbnb is regarded as one of the most successful tech start-ups of the past decade and has been profitable over at least some of the past years. Moreover, the pressure to go public has been particularly high because some employees' stock options will expire later this year. Over the past year, Airbnb has therefore been working vigorously to clear possible obstacles to its IPO and polish its public image, for example with efforts to 'serve all stakeholders' and campaigns against neighbourhood nuisance.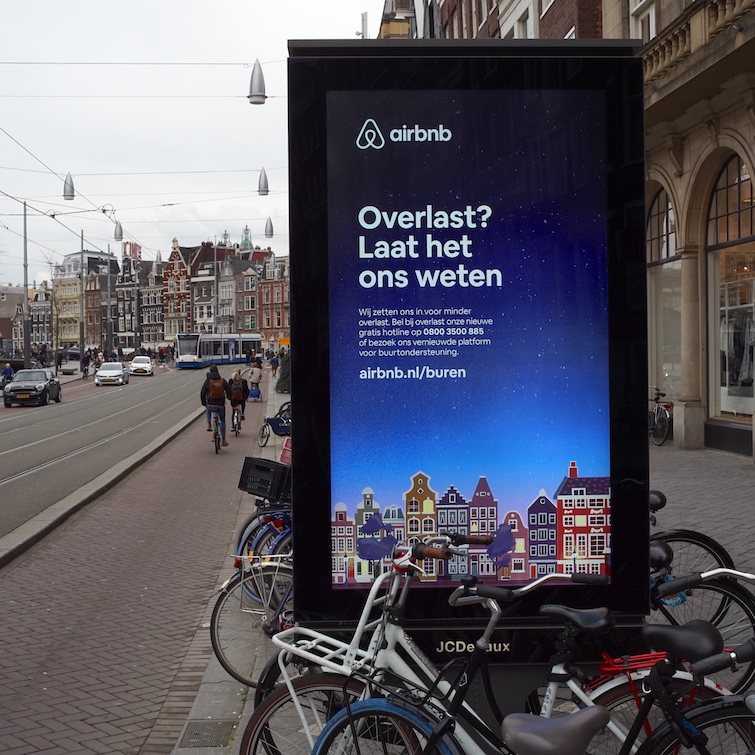 Sign displaying a campaign against nuisance from Airbnb apartments in Amsterdam. Photo: Jelke Bosma, March 2020.
Given its upcoming IPO, it might be even more important for Airbnb to stay afloat financially as long as the Covid-19 crisis keeps its grip on the economy and travel. Airbnb supposedly had $3 billion in cash reserves, but this might have largely evaporated because it partially consisted of prepaid bookings from guests that had to be paid back. Airbnb might burn through the remaining reserves in little more than a year, according to Business Insider analysts. With current revenues severely reduced due to a lack of new bookings, Airbnb was required to cut down on spending, scrapping its $800 million marketing budget and halving executives' payments. Other expenses can't easily be cut, for example to keep the platform online, for office space rental, and the salaries of about 15.000 employees continue. Consequently, Airbnb took out new financing worth $1 billion early April and a week later another $1 billion.
So far, Airbnb's response might be characterized as reactive; responding to ongoing developments resulting from the crisis and trying to manage and minimize losses, as well as regain trust from its users, the market and public. It seems highly unlikely that Airbnb will be able to swiftly pull this off and an IPO in 2020 thus seems improbable, but so far it hasn't been postponed. But there is more to Airbnb's response, which includes proactive elements that give a glimpse of the direction the company may take after the crisis.
Capturing the value of the crisis
When Airbnb secured its second $1bn loan last week, Brian Chesky announced:
All of the actions we have taken over the last several weeks assure that Airbnb will emerge from the storm of the pandemic even stronger, regardless of how long the storm lasts.
What might an 'even stronger' Airbnb look like? In what ways might Airbnb actually benefit from the crisis and capture its latent value? One way forward is by building partnerships and reinforcing its position as 'essential' infrastructure. Another is by expanding its market beyond the short-term rentals Airbnb has become known for.
The COVID-19 crisis offers an important opportunity to build partnerships with organizations in a wide range of sectors. In the past, partnerships have been a central and successful strategy for Airbnb. It has been diligent, for example, in building partnerships with tourism authorities and municipalities in its lobbying efforts for favorable short-term rental regulations. The city of Amsterdam was one of the first cities Airbnb established such a partnership with, in 2015. While the relations with the municipality since then cooled down, to say the least, the strategy has proven to be successful to some extent as Airbnb was recently re-admitted as a member of the Amsterdam Economic Board. Similarly, since the 2015 Olympics in Rio de Janeiro, Airbnb has partnered with the International Olympic Committee for accommodation provision during the sporting event.
During the current Covid-19 crisis, Airbnb is building relations with a new type of partners through its Open Homes program. Launched in 2017, the program matches people looking for temporary housing during emergencies with hosts who are willing to offer their accommodation for free. Recently, Airbnb has emphasized its close cooperation with "partners including the French government, the International Federation of the Red Cross and Red Crescent Societies, the International Medical Corps and the International Rescue Committee." Other press releases highlight cooperation with local health authorities, NGOs and governments, for example in Germany, France, the Philippines, Malaysia, New York and New Orleans. A 'partnership' during the Covid-19 crisis seems to primarily involve these partner organizations getting access to housing mediated by Airbnb. Hosts can sign up Airbnb to offer their homes and are encouraged by Airbnb to do so for free or else at a reduced rate. An organization such as the Red Cross can then rent these apartments for health care staff that is temporarily working outside of their hometown or that for other reasons cannot stay in their in their own home.
So what's in these partnerships for Airbnb? To answer this question, it is important to consider what type of organizations Airbnb currently partners with: they often provide essential services and serve the public interest. Accordingly, it is attractive for Airbnb to connect its brand to the credibility and status of these partner organizations. The job description for a current "Strategic Partnerships Lead" vacancy within its public policy/communications department in Singapore is telling: the candidate will be responsible for "building key reputational partnerships and initiatives that demonstrate to policymakers the value of Airbnb to cities and communities." In other words, strategic partnerships are an asset for Airbnb, as they provide an opportunity to advance its position in negotiations with local governments.
But it appears not to be just a promotional, public relations effort. As Niels van Doorn wrote before, "Airbnb leverages its host community to experiment with public infrastructuralization, tentatively and selectively taking over functions that have traditionally been organized by state agencies." By developing itself as an emergency support provider, Airbnb aims to take on an increasingly infrastructural, ubiquitous role, showing it can provide crucial resource to cities in crisis. The value Airbnb tries to capture here is not so much economic value, at least not initially, but rather a kind of public value that forms an investment in a future where Airbnb ideally would become an indispensable resource for governments and cities.
Besides building partnerships with organization in other sectors, Airbnb is also trying to capture value from the longer-term rentals that hosts are shifting towards. This isn't a new market for Airbnb; a specific landing page has targeted longer-term stays for some years. It's also not a new market for some hosts: when I conducted my fieldwork in Berlin, I met quite some hosts who were already offering their property for longer-term stays besides short-term rental to circumvent local regulations such as the 90-day short-term rental limit. Now that hosts are moving to other platforms, Airbnb tries to hold on to them (and guests) by explicitly promoting longer term local stays. If Airbnb is successful in establishing itself as a long-term housing provider during the Covid-19 crisis, they might be able to retain this function after the crisis.
The Covid-19 crisis has devastated tourism and short-term rental in many cities, and Airbnb is taking a huge hit at a very inopportune time. Chances are that it isn't able to fully regain the trust of its user base. Over the coming period, it will become clear which hosts will be willing - and able - to still partner with Airbnb when a new normal is established. Airbnb has built a name as a short-term accommodation provider and has been keen to stress its development as an "end-to-end travel platform." But the company has clearly been working towards new ways to capture value from processes and activities that go beyond travel and tourism. While most paths were taken already before the crisis, it seems likely that this period will speed up the transformation of what Airbnb is and does.